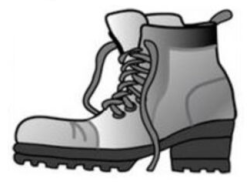 Entries Open
Sunday 1st October 2023
Entries Close
Thursday 16th May 2024
Entries so Far
230 Participants
To enter you must first Log In or Register your Details with SiEntries.
So, why the Leaden Boot Challenge? Lead stolen from the church roof of St Peters, Alstonefield in 2010 prompted numerous fund raising activities within the Parish to raise the £10,000 needed to re-lead the roof and to introduce a security system. One of the many fund raising schemes was the development of a challenge event centred around the Parish. A small team of local walkers sought to create an event that was both challenging and fun!
The result is the Leaden Boot Challenge, a 26.2 mile walk/run that entails 4800 feet of ascent, and descent, starting and finishing in the White Peak village of Alstonefield. Start is from the Village Hall in the centre of Alstonefield at 09:00 and finish no later than 21:00 (12 hours maximum). Hot breakfast rolls are on sale at the start to help you on your way. There are six manned checkpoints (plus two unmanned checkpoints), spaced approx 4 mile apart. Each manned checkpoint has water, squash, snacks, first aid facilities and mobile communications between checkpoints and the Memorial Hall for additional support as required. Walkers who retire will be transported back to the start.
Locally made hot food and cakes are provided for all participants at the finish (included in entry fee). Certificates and cloth badges will also be given at the finish for those who successfully complete the challenge. Although principally a challenge walk (following LDWA guidelines), the event is open to both walkers and runners. The shortest time to complete the LBC is 4 hours 12 minutes set by Kurt Fitch in 2019, and he also was the first to complete the 2022 challenge with a time of 4 hours 22 minutes, (also taking the record as the first person to win the challenge twice). Following the success of the various appeals to reach the initial goal of £10,000 by August 2010, the Leaden Boot Challenge has moved on and now supports local good causes. To-date, the event has raised over £45,000 for a variety of local causes.
The elliptical route minimises the use of the more popular trails and other challenge routes around the Staffordshire Moorlands and Derbyshire Dales. Starting from Alstonefield, the route goes through Milldale, over Baley Hill, into Nabs Dale, across the Dove at Ilam Rock, climb to Aires Cottage, then descend Bunster Hill, past Ilam Hall, through Musden Woods and up to Slade House Farm, then past Throwley Hall, through Grindon, across the Manifold at Wetton Mill, over Ecton Hill, Hulme End, Sheen, around Sheen Hill, across the River Dove at Pilsbury, Hartington, Beresford Dale, Narrow Dale and back to Alstonefield.
View the Event Disclaimer / Terms and Conditions.
View the Event Cancellation / Refund Policy.
---
Event Location:
Alstonefield Village Hall, DE6 2FR
what3words: