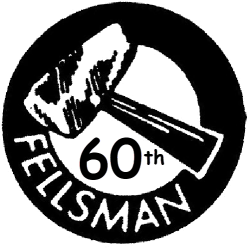 Entries Open
Thursday 1st June 2023 at 06:00
Entries Close
Friday 26th April 2024 at 08:00
Entries so Far
237 Participants
Contact
Event Administrator - Shona
To enter you must first Log In or Register your Details with SiEntries.
Click here for event video: https://youtu.be/q2wyaQPIkeo?si=wqqFroDx87lam2wE
The Fellsman is one of the most iconic challenge events on the circuit oozing challenge, charm and character. Set over stunning but very challenging, remote, rugged Yorkshire Dales fells and moorland and climbing over 11,000 feet in its path from Ingleton to Threshfield, this point to point route is serviced by 25 hilltop and roadside checkpoints. It requires strong navigational skills as well as physical fitness and mental resilience - this is not an event to be undertaken lightly but the rewards and sense of achievement on completion are plentiful and make it well worth the effort!
First run in 1962, and now in its 60th year, the Fellsman is organised by Keighley Scout Service Network and it remains staffed entirely by volunteers, many from Scouting. Whilst GPS technology and modern updates have been introduced over the years, the Fellsman retains its iconic charm and uniqueness. Fully serviced checkpoints offering a wealth of hot and cold food and beverages, transport, accommodation and options to cater for special dietary requirements, ensure that all entrants are well looked after.
Your £95 entry fee includes:
· hot food and refreshments around the route (the Fellsman is referred to in legend as one giant picnic in the Dales!)
· transport from checkpoints back to the finish at Threshfield in the event of retirement
· accommodation facilities at the start and finish
· car parking at the finish
· a hot meal on your return to the finish
· all P&P as required
· hire of live tracking equipment for the duration of the event
· a pdf of the event handbook
· your iconic Fellsman tally which tracks your progress around the route
· a commemorative item of clothing/equipment
· a donation to the Friends of the Three Peaks Campaign
The organisers take entrant safety extremely seriously; a stringent kit list is in place alongside live tracking and cut-offs around the route. Only experienced and fit runners / walkers should enter.
Further details of the route, checkpoints, rules and facilities available can be found on our website: www.fellsman.org.uk
View the Event Disclaimer / Terms and Conditions.
View the Event Cancellation / Refund Policy.
---
what3words: