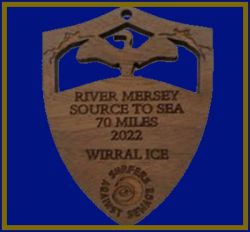 Entries Open
Monday 20th June 2022
Entries Close
Wednesday 31st August 2022
Entry Fees
Entry Fee
£11.20

includes booking fee
Contact
Hil Hart / Jan Rigby
To enter you must first Log In or Register your Details with SiEntries.
What are we doing?
We challenge you to swim 70 miles or more over six months of Summer, which is the length of the River Mersey from source to sea. Can you do it? Bet you are swimming more miles than you think. And the best Summer swimming months are about to start.
Which months?
Count miles from 01 April 2022 to 30 September 2022. April and May can be submitted now to kick off.
Why?
The River Mersey is symbollic historically as one of the most industrial rivers in the UK. Surfers Against Sewage are fighting sewage pollution in both rivers and seas and we are supporting their work ....so maybe we get cleaner water for swimming and for our wildlife.
What is the prize?
A gorgeous wooden shield-shape medal showing a cormorant (an emblem of Liverpool); the Surfers Against Sewage logo; and your distance for as many times as you have swum 70 miles between 01 April 2022 and 30 September 2022. And yes, the miles you have already done since 01 April will count! If you don't complete a full 70 miles we have a fab wooden key fob for you.
WOODEN SCULPTURED SHIELD (PICTURED) - WORDING TO READ...

" 70 miles" for swimming it once, and so on....
"140 miles" , "210 miles", "280 miles" ....
and so on .....up to
"560 miles" for swimming it eight times
We don't think you can swim further than that but if you can we will make a medal for you!
What are the rules?

The following will count towards your total swim-miles:
Indoor pool
Open water (tidal/ non-tidal)
Current assisted natural water (the Mersey is a fast river)
Tethered (45 minutes = 1 mile)
We draw the line at barefoot paddling, sorry!
Attire
You can wear any amount of neoprene you wish...or none.
Communications
You need to have an email address. Facebook and Messenger are optional - there will be a Facebook group to share stories, answer questions and support other swimmers who swim in the Rivers Dee and Mersey basins - from Stockport to Liverpool, and Wrexham to Formby .
Mileage submissions
After you've completed each month, please return to SiEntries and Edit your Entry so that you can record your total mileage for the month. Your cumulative distance and position will be recorded on SiEntries on the Leaderboard so you can check out your progress…
Where can I collect my medal?
There will be swimmer gatherings! Participants can choose to collect medals from one of the following swim venues in the North West on the weekend of either 15/16 Oct or 22/23 October 2022 – we will be there to hand them out! Dates and times to be confirmed - we will check your preferred venue closer to the time.
Liverpool Watersports Centre
Weswim run, Liverpool
Wildshore Delamere
Fort Perch Rock, New Brighton
Manley Mere, Cheshire
Sale Water Park
Park in the Past, Wrexham
Will you be making a difference?
Still reading? Great. There is ONE water company responsible for managing rivers from Manchester to Liverpool and up to the top end of Cumbria. Yes! It is United Utilities. They are head and shoulders the worst polluters in the UK. Surfers Against Sewage are fighting to hold the water companies to account. Let's support them! Feel free to set up your own charitable donation page because this is a BIG challenge!
Refund policy
No refund available.
---