Info: New entries for this event closed on Wednesday 25th May 2022.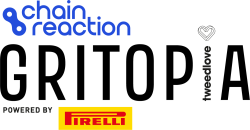 Entries Open
Friday 3rd December 2021 at 19:00
Entries Close
Wednesday 25th May 2022
Chain Reaction Gritopia powered by Pirelli will take you on a journey deep into the valley hinterland, leaving the traffic far behind, and often far below you. Expect mile after mile of empty grit and gravel with a few stretches of quiet tarmac linking it all up. The full course is approx 75km (TBC) but shorter options are always available.
Any suitable bike will do. A dedicated gravel bike is perfect but a mountain bike will be fine. Oh, and eBikes are welcome! We don't however recommend a road bike, they'll be a tad uncomfortable, prone to puncture and the gearing might by unhelpful in places!
"My 1st gravel event; Excellent route, challenging ride, stunning scenery. It was a great day on the bike!" 2019 Rider
What you get
Fully marked route
Course Map
Electronic timing by SI systems
Feed stations fit to burst with cake and High 5 energy products
Event village with food & drink
TweedLove surprise swag
Number Board
The best course medics available
Safety marshals
on site tech support
Instant results service
About The Course
We're still confirming this year's course with the relevant landowners and authorities, but it's set to be a very enjoyable tour visiting some less-travelled corners of the Tweed Valley. The distance and ascent figures will be roughly inline with previous events. You can download all the info from the 2018, 2019 and 2021 events to get all the info and maps for those courses. Some sections of those events are likely to be repeated.
Approx start time 09:00am.
Enter 2 events in this series for a £10 discount
---
Event Location:
what3words: