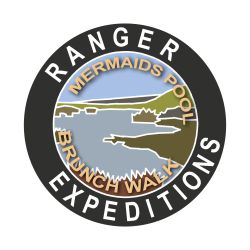 Entries Open
Friday 3rd November 2023
Entries Close
Wednesday 27th March 2024
Contact
Event Organiser - Stu Westfield
To enter you must first Log In or Register your Details with SiEntries.
The ultimate brunch of legends and scenic panorama.
Discover the myths, stories and fables of the the famous Mermaid's Pool on Kinder Scout.
Starting from the historic village of Hayfield, we journey at a relaxed pace,
enjoying the Peak District views from an 'off the beaten path' perspective.

At the edge of Mermaid's Pool your guides will serve a Scandinavian style brunch:
Danish pastry, skyr with fresh berries, rye bread with choice of smoked salmon, cream cheese and egg.
Accompanied drinks: Coffee, breakfast tea, Earl Grey tea, orange juice.
There's also the opportunity to dip your toes in the pool and hope that the Mermaid blesses you with good fortune.

Then, our walk will continue to see and talk about some of the other Kinder Scout sites of mythology.
Our Ranger Expeditions Peak District hilltop breakfast experiences are led by local Mountain Leaders in small groups, so you're never lost in a crowd.

ITINERARY
08:00 Meet at car park
08:15 Start walk
10:15 Brunch at Mermaid's Pool
11:00 Further exploring
14:00 Approx finish back in Hayfield village
(12km / 7.5miles ) Total ascent 540 metres
MORE DETAILS:
https://rangerexped.co.uk/kinder-scout-brunch/
WHAT TO BRING
Sufficient for a morning on the hill in varied springtime conditions.
Worn or in your carried rucksack…
Waterproof jacket (with hood) and over trousers
Warm layer (worn and spare) eg long sleeve fleece or primaloft
Wicking base layer (not cotton)
Hat & gloves
Walking boots (broken in) or trail shoes with good grip.
Water bottles or bladder min 1 litre
Personal first aid, blister kit, medications
Whistle
Mobile phone (fully charged)
Optional
Walking poles
Sun cream, sun glasses, sun hat, buff
Sit mat or light blanket square for your comfort
Please note: You must begin the walk with water and personal snacks sufficient for the start to brunch
SAFETY & OTHER MATTERS
Ranger Expeditions' Kinder Scout Legends & Brunch Special is a guided walk and larger groups will have several guides to look after you on the trail.
Unsurprisingly, there are no toilets on the hills, but there are plenty of discrete places for a call of nature. Do let one of our guides know if you move away from the trail for any reason. We encourage folks to mingle and enjoy their day, but please do not move ahead or out of sight of your guide. If you do find yourself separated, remain where you are and call the duty number given out on the morning of the walk.
Photography: Complimentary photos of your day with us are made available to download via our social media platform. If you do not want your photograph to be taken please let us know on the day so we can respect your wishes.
GDPR: As part of our duty of care to you, we need to hold your contact details and any medical declarations (in-confidence) for the build-up and duration of the walk. These will not be passed on to any third parties and will be carefully disposed of afterwards.
Dogs: We love our four-legged friends. But for practical reasons, we're sorry dogs are not permitted on this walk.
View the Event Disclaimer / Terms and Conditions.
View the Event Cancellation / Refund Policy.
---
what3words: