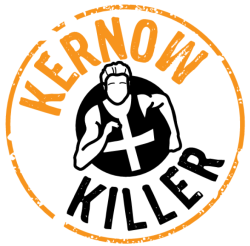 Entries Open
Monday 30th October 2023
Entries Close
Friday 5th April 2024
Courses
Kernow Killer (10km); Kernow Thriller (5km); Kernow kids (2.5km)
Entry Fees
| | |
| --- | --- |
| Adult Kernow Killer 10km | £70 |
| Adult Kernow Thriller 5km | £50 |
| Adult Kernow 2.5km | £30 |
| Child Under 16, Kernow Killer 10km | £60 |
| Child Under 16, Kernow Thriller 5km | £45 |
| Child Under 16, Kernow 2.5km | £30 |
| Family (2 Adults, 2 Children) / Kernow Killer (10km) per team | £200 |
| Family (2 Adults, 2 Children) / Kernow Thriller (5km) per team | £170 |
| Family (2 Adults, 2 Children) / Kernow Thriller (2.5km) per team | £100 |
Early Bird Discounts
Enter up until 30th November and receive 25% discount
Entries from 1st December to 31st December receive a 15% discount
Entries from 1st January to 31st January receive a 5% discount
Adult teams of 10+ also receive a 10% discount off of the individual price per person.
To enter you must first Log In or Register your Details with SiEntries.
Kernow Killer is an obstacle course event which pairs deviously designed obstacles with the tough Cornish landscape – making this Cornwall's premier assault course challenge. It's not a race though! Kernow Killer is an established event in both sporting and social calendars and revels in the success of being tough enough for those who really want to push themselves, but achievable for those who are participating for the first time.
Set in the wonderful Scorrier House Estate competitors will be faced with barriers to climb over, under and through; obstacles to scramble over and swim or wade through. Two courses are set which will test your mental and physical powers – and you will realise that getting to the end is a team effort!
The three challenges we set are:
Kernow Killer – our classic challenge which sorts the pards from the bards! This little beauty will see you trampling and scrambling, swimming or wading, climbing or shuffling your way around about 10km of Scorrier House's toughest terrain – with around 30 of Kernow Killer's legendary obstacles. Gruelling – gurning – grinning: this is the greatest challenge you will face on the day!
Kernow Thriller – geddon bey… this is no easy way out! Whether you walk, stalk or stomp your way around this shorter course there will not be much time to take in Scorrier House's stunning scenery as you clamber under, over and through around 15 things that are just in the way! Plenty of frills and thrills on this course – you will be glad of your pals to get you to the finisher's line!
Kernow starter 2.5km bleedy beaut….. this is a wonderful starter course every thing is just a taste of the bigger courses fantastic for kids to do alone, or for families with small ones for a fantastic family day of fun! Even finishing with the legendary Kernow killer water slide.
These are not races – they are challenges aimed at pushing everyone to their own limits. The secret to success is using teamwork to get through the courses. This is all about rocking up and having a go! Nothing is timed – everything is photographed mind…. but every single one of you who has a bash will be rewarded with a unique participant T-shirt, survivors medal, access to our photo gallery and that amazing buzz of being able to say, 'I was there!!'
Anyone under 18 must provide parental/carer consent to be able to register and participate. If you are aged over 80 you will need share your secret with us before starting.
Please click here for a copy of our Terms of Purchase.
View the Event Disclaimer / Terms and Conditions.
View the Event Cancellation / Refund Policy.
This event offers the option to purchase XCover, so that participants may be able to get a refund if they are unable to attend due to unforeseen circumstances.
---
Event Location:
Scorrier House Estate, Scorrier, Redruth, Cornwall, TR16 5AU
what3words: