Info: This event is now full so no new entries can be made.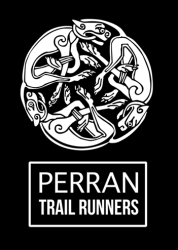 Entries Open
Saturday 21st October 2023 at 07:00
Entries Close
Friday 8th December 2023 at 19:00
Entries so Far
260 Participants
Entry Fees
UKA/ARC Affilliated
£5.00
Non Affiliated
£7.00
Contact
Race Directors - Nigel Swift / Toby Lowe
Many of you will know St Piran as the patron saint of Cornwall and of tin miners, but few of you will also be aware that he is also the patron saint of Cornish Trail Runners! On Sunday 10th December, in St Piran's landing place of Perranporth, the Perran Trail Runners will be staging the St Piran's Revenge 10km trail race.
St Piran was feeling a bit more vengeful this year, so we're pleased to announce there is a new course which adds extra challenge including more dunes and more ascent – over 1000 feet! It is set on the beach, dunes and coastal path with some speedy descents and challenging climbs. Please keep to the designated course route as the dunes are a Special Site of Scientific Interest and Special Area of Conservation. This event has been given consent by Natural England and permissions have been granted by local land owners. We also grateful of the support of the Cornwall Wildlife Trust who are responsible for managing the dunes.
There will opportunities for refreshments and food before and after the race at the Watering Hole Pub, and at Perranporth Surf Lifesaving Club(Race HQ). We've set the entry fee low in order to make the race both affordable and sustainable to as many as possible. This is the second year of holding this race and entries will now be available to a maximum of 250 runners. It is now part of the Cornwall Multi-Terrain Running Series.
There will be handcrafted medals at the finish line for all finishers, and sustainable trophies for podium male and females and Age Cat. prizes.
Toilets and Car Parking – parking and toilets are available at the beach front and there's free parking a short walk away at Wheal Leisure car park. There are also toilet facilities at the Surf Club(Race HQ), and at the Watering Hole . There will be a bag drop on the day located at the Surf Club.
Race registration – Race numbers can be collected at Race HQ from 9am on the day. Please note there are no entries on the day.
This is a cupless event and there will be no water available on the course, only at the end. We recommend you bring a hydration pack or a bottle as part of your kit.

Please take any litter home with you or dispose in bins on the beach. Any littering will result in disqualification.
Thanks for your cooperation, we look forward to seeing you on the day!
View the Event Disclaimer / Terms and Conditions.
View the Event Cancellation / Refund Policy.
Other events in the Cornish MTRS
---
what3words: